Welcome to Trail's End Ranch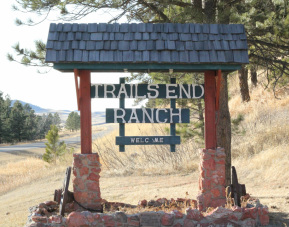 We are currently in the process of
designing a new web page so you will
find some areas still under construction
or not yet installed. Thank you
for your understanding.
---
Trail's End Ranch is a fully accredited, non-denominational, Christian camp nestled in the midst of Custer National Forest approximately five miles southeast of Ekalaka, MT. Situated on 720 acres, the camp has access to much of the national forest for biking, horseback riding, and hiking; recreational possibilities are almost limitless.
The camp that began with a single log home for founders, Bob and Pat Anderson, has blossomed into 30 buildings, 4 teepees, 4 camper sites, 3 arenas, ball fields, ropes course, a BMX track, swimming pool, climbing tower, zipline, big swing, gymnasium, paintball fields, geocaching course, and many other exciting activities.
Our staff is entirely committed to each camper. It is our goal to to move each individual forward in every area of their life: emotionally, physically, mentally, socially, and most importantly, spiritually. This is accomplished through well-trained staff, attentive counselors, challenging activities, chapel, devotions, follow-up programs, teachable moments, personal interviews, and small camper to counselor ratios.
Trail's End Ranch is also fully committed to spreading the gospel of Christ. Our ultimate goal is to bring each camper to a saving knowledge of Christ and to help those who already know Christ strengthen their walk with Him. As campers come to Christ, we strive to integrate them into the local church. We make every effort to develop and train well-balanced Christians in the areas of discipleship, service, quiet time, personal habits and attitudes. This is accomplished even as campers go home; each camper is provided a free discipleship-by-mail program that continues through the winter to the next camping season.
We eagerly anticipate serving your children this summer. Please feel free to browse though our site, enjoy our pictures, or download any forms you might need. If you have any questions, please feel free to contact us. We are here to serve you.